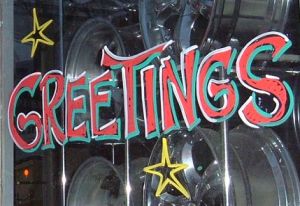 WELCOME
TO FRANIS ENGEL'S
FREEHAND PAINTING
HOLIDAY PORTFOLIO GALLERY!
EMAIL FRANIS
franis@franis.org







Lettering * Giant Snowflakes * Snowmen on Skis by the Gingerbread house *
(Click on pictures to see larger versions) A gymnastic school wanted cartoons for their windows, so I drew a skipping snowman, jumping, flying & teetering kids.



click to see PRE-2004 (ORIGINAL) GALLERY






OTHER HOLIDAYS AND PURPOSES


cartoons of leprechauns drinking beer & partying for St. Patrick's Day.

JOB INFORMATION for business owners


EMAIL FRANIS
franis@franis.org




415-868-0420 Franis Engel
(Marin County, in the San Francisco Bay area)




808-769-1908 Franis Engel
(Located on the Big Island of Hawaii after Christmas through summertime)




JOB QUESTIONS ANSWERED FREE! for window painting artists

APPRENTICESHIPS! learn to paint holiday windows yourself!



Thanks for coming by to take a look!