JOB INFO


NOW


PRE'04


SCROLL


www.org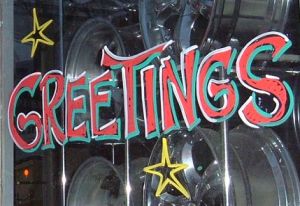 WELCOME
TO FRANIS ENGEL'S
FREEHAND PAINTING
HOLIDAY PORTFOLIO GALLERY!
EMAIL FRANIS
franis@franis.org



The Infinity car dealership in San Mateo loved the job I did for them in 2005. Lettering * Giant Snowflakes * Snowmen on Skis by the Gingerbread house *
A gymnastic school wanted cartoons for their windows, so I drew a skipping snowman, jumping, flying & teetering kids.

A sporting shop wanted fishing holiday wishes, here are two candle wreaths, and an unusual theme for a Mexican taqueiria.
I can deal with panes of windows, busy windows or windows of unusual sizes. Here are the partying elves, a coffee stop, and two doors for a gas station.
OTHER HOLIDAYS AND PURPOSES
Want to announce a new service, use those blank windows or can't afford the high costs of permanent signs? Check these out.
A Fourth of July window titled "Or Give Me Beer", some spring botanical decorations and
cartoons of leprechauns drinking beer & partying for St. Patrick's Day.

JOB INFORMATION for business owners


EMAIL FRANIS
franis@franis.org



415-868-0420 Franis Engel
(Marin County, in the San Francisco Bay area)


(Also located on the Big Island of Hawaii)



JOB QUESTIONS ANSWERED FREE for window painting artists APPRENTICESHIP * CLASSES to paint holiday windows yourself!



Thanks for coming by to take a look!